Katie + Ashley
Ace Hotel Palm Springs Wedding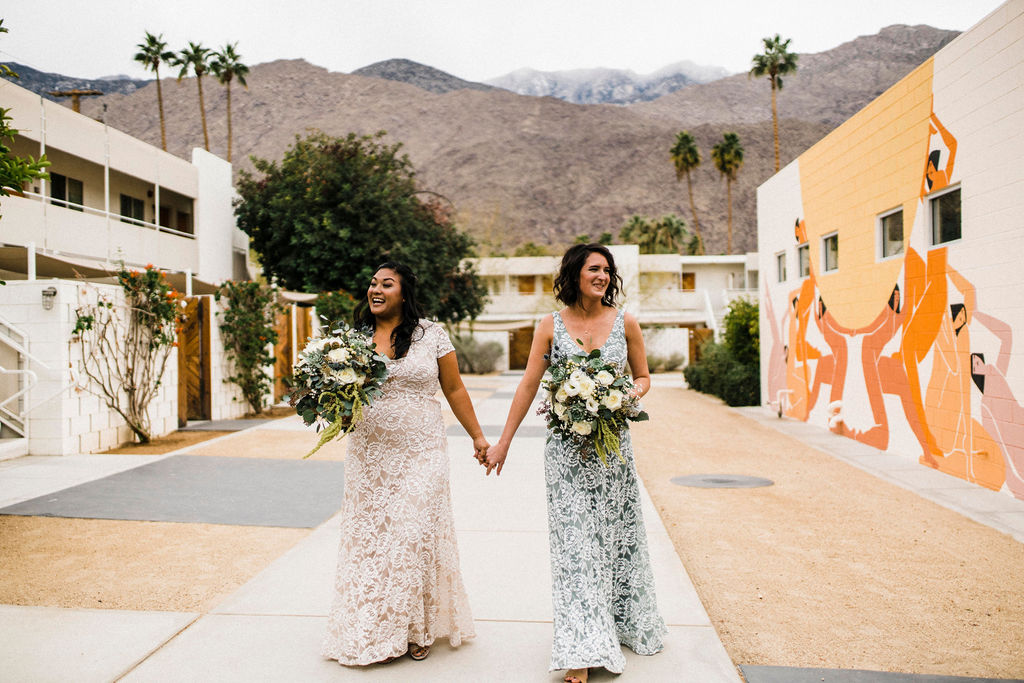 Katie + Ashley got married at Ace Hotel in Palm Springs this past January and to say it was perfect is an understatement.
Katie + Ashley found Grace and Gold Events on the Ace Hotel Preferred list and when we first spoke it was magic and we hit it off right away! These ladies hired us for "month of" as they were so organized and knew exactly what they wanted. Ace Hotel is a hotel that is special to them and they visit often so when it came to finding their wedding venue they didn't have to look far. They expected about 100 people at their wedding and they wanted their guests to dance the night away. It was our first wedding of the year and still to this day I can't say I have seen a dance floor this packed since their wedding. DJ Vinh was a friend and he had all the moves. At one point I literally couldn't find him only to see that he had turned on "Thriller" by Michael Jackson and was teaching the guests how to do the dance. It was such an AMAZING moment and there wasn't one person sitting at their table. Towards the end of the night the ladies know my love for the spice girls and played "Wannabe" just for me. They grabbed my hand and brought me immediately to the dance floor as we sang the song at the top of our lungs.
When you find a dream couple like these two you can't help but smile all the time. Thank you ladies for hiring me for your big day! Your wedding will always be one of my favorites!
Lead Coordinator |
Grace and Gold Events |
@graceandgoldevents
Venue & Catering + Cake
|
Ace Hotel
|
www.acehotel.com/palmsprings
Officiant
|
Nick Runyan
| Katie's Brother
Bride + Bride
|
Katie + Ashley