Emily + Grant
Bougainvillea Estate Wedding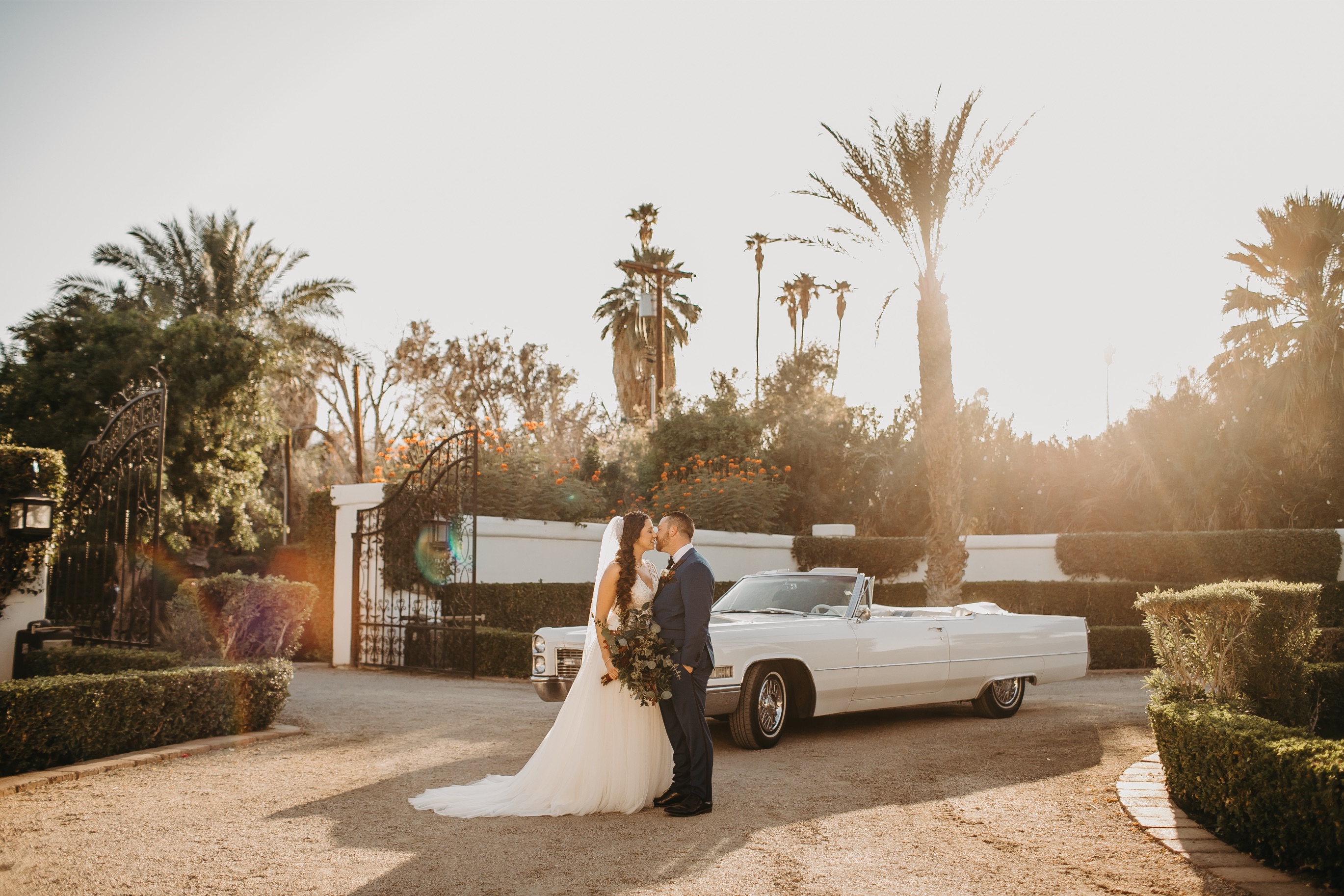 This couple, Emily and Grant, two of the sweetest souls you will ever meet got married at one of our favorite venues Bougainvillea Estate (Indio) and it was one of the most fabulous parities we have ever gotten to be apart of!
I met Emily and Grant through Emily's brother and immediate hit it off. They had a vision and I was able to help them bring their vision to life and help bring in the vendors who I knew could work manage. Emily + Grant decided to have their rehearsal dinner (held the night before), Their wedding (had 175 guests attend!) and a pool party the day after. It was truly a wedding weekend to remember with all their loved ones coming from all over Southern California!
One of my favorite stories about Emily and Grant is Grant decided one day that Emily needed to enter their ceremony in a Vintage Covertible Car. It was about 24 hours the car was booked and the rest is history! I will say it was one of the best ideas that Grant had as so many photos were taken with the car!
We truly LOVE private estate weddings and so grateful we got to be apart of this big day!
Lead Coordinator |
Grace and Gold Events |
@graceandgoldevents
Venue
|
Bougainvillea Estate
|
@
bougainvilleaestate
Catering |
CV BBQ |
@cvbbq
Late Night Food |
The Food Dood |
@thefooddoodca
Cadillac Rental |
Palm Springs Classic Cars
Rentals (wood tables)
|
Planks and Patina |
@planksandpatina
Rentals |
Signature Party rentals |
@sigpartyrents
Bar |
Bottles and Blooms |
@bottlesandblooms
Florist |
Bottles and Blooms |
@bottlesandblooms
Lighting
|
Perfect Holiday Lights
Cigar Bar |
El Canito Cigar Events |
@elcanitocigarevent
Photographer |
McCoy Wedding Photography |
@mccoyweddingphotography
Photobooth |
Mr. & Mrs. Selfie |
@mrandmrsselfie_
Hair |
Bibbidy Bobbidy Beauty |
@bibbidy_bobbidy_beauty
Makeup |
Alyssa Guindon |
@alyss_beauty
Videographer |
Carver Weddings
Bride + Groom
|
Emily + Grant |
@bettencourted2019