Intimate Wedding at La Quinta Resort
Corrine And Drew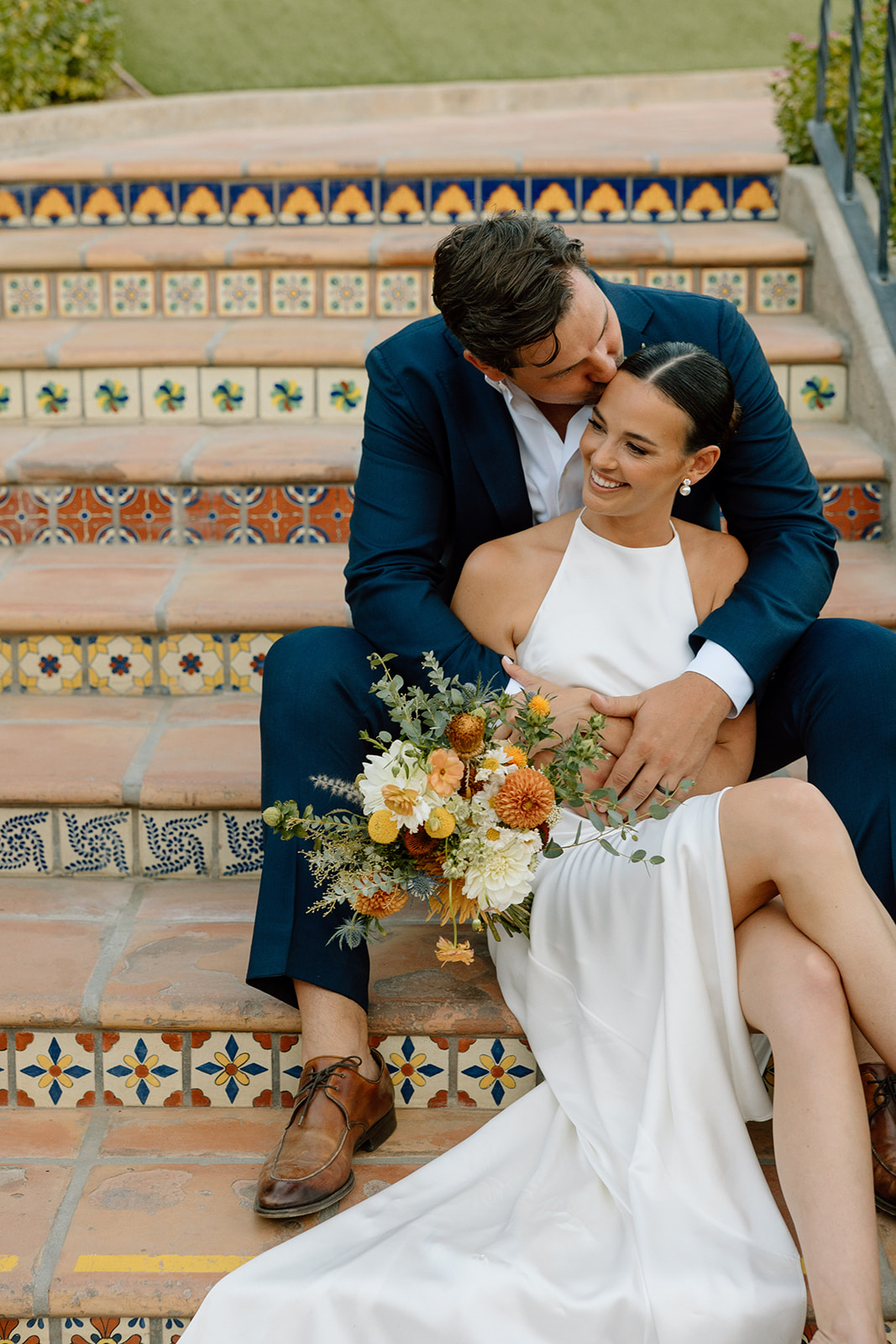 It all started with a tile.
No really, it did. Corrine's parents went to Rosarito, Mexico and came up with these beautiful tiles and the intimate wedding design for Corinne and Drew began!
Corinne hired me in 2022 to plan her intimate wedding at La Quinta Resort. Her idea wedding was one where her closest friends and family were able to attend and she could get married at her favorite resort La Quinta Resort.
Corinne grew up vacationing at La Quinta Resort so getting married there was truly special to her. They chose an intimate space called the San Clemente Courtyard. Their family and friends traveled to La Quinta so it was a true joy for the couple to share their love of the desert with their guests.
La Quinta has a beautiful Spanish feature, so bringing in tiles kept with the theme. Corinne wanted to go with fall colors or orange, taupe, deep blue and yellow. Her flowers in her bouquet capture her design palette perfectly.
We love when our couples bring a personal aspect to their wedding and in this case, Corinne's father built a cross for their ceremony. It was around 8 foot table and adorned with flowers in the same shade as her bouquet. The seating chart was also built by Corinne's dad where it show cased all different tiles with their guests names and table numbers. These tiles were rich in color and could be used as a coaster for the night!
And finally her reception tables were where the true magic happened. Corinne and I started designing her wedding with pieces of furniture from Adore Folklore, but it wasn't until we went to Adore Folklore where the tables truly came to life.
We focused on the terracotta plates as we wanted them to have a big impact on the tables and it was the perfect color to tie in the brighter colors from the flowers. From there we focused on the overall look where we discussed different types of menus (as they were having a family style dinner) and decided that a semi circle menu would be the perfect fit. We added a stunning napkin with leather napkin holder to really give the placesetting a big umph. We couldn't of been more thrilled with all the overall design came to life!
My favorite part though would have to be the margarita coupes though, these added so much character and the final touches to the tables. Since the reception would be assigned seating only we needed to find a way for their guests to find their seats. Since the place settings with the napkins, menus and plates were pretty secured we had to think outside of the box. This is where we decided that the guest would have to find their seats (where a margarita greeted them!) with a cute terracotta placard that set on the side of the margarita. The guests where raving about how beautiful everything came together all night long!
Corinne and Drew were such a joy to work with. They had a vision and we were thrilled to help bring it to life!